Thursday, 9 June 2022
Deputy data reveals low morale amongst shift workers at fast-food restaurants
---
Only 27% of fast-food and take out restaurant workers report feeling happy at the end of their shifts
Workers in restaurants and pubs & bars are the most engaged, with 63.1% and 61.8% feeling happy following their shifts respectively
---
SYDNEY, 09 JUNE - Shift workers in fast food and take out restaurants across Australia are the least happy out of all hospitality workers, according to new data released by Deputy, the leading workforce management app. The data has been recorded using Deputy's new Shift Pulse feature, on which workers are able to rate how they're feeling at the end of their shift on a sliding scale. More than 180,439 shifts in Australia were measured between 1 January 2022 and 30 April 2022.
Approximately a quarter (27%) of workers at fast-food and take out restaurants reported feeling happy following their shifts, a stark contrast from the 63.1% and 61.8% who felt happy at restaurants and pubs & bars respectively.
However, despite being the happiest out of all the hospitality sub-sectors, restaurant workers were also the most disheartened, with 6.1% saying they felt frustrated following their shift, compared to the industry average of 2.5%.
Overall, across the hospitality industry, workers are largely in good spirits, with 43.4% reporting feeling happy, and 37.2% reporting feeling good. On the other hand, 14.1% reported feeling 'okay' while 2.5% and 2.8% reported feeling 'frustrated' and 'stressed' respectively.
Ashik Ahmed, CEO and co-founder of Deputy, said: "Despite the many challenges facing hospitality workers, such as longer and more intensive working hours due to nationwide staff shortages, it's encouraging to see that the majority are resilient and feeling enthusiastic about their work. Regardless, the industry has been under immense pressure following the exodus of the foreign workforce during the pandemic and managing the shift away, and back again, from CBDs and cities to local favourites. As we return to life as we knew it, it's important that more be done to bolster hospitality staff numbers and ensure employee wellbeing."
Deputy's new Shift Pulse feature is designed to provide workers with a simple way to share how they're feeling after every shift so that their managers can respond to their needs.
"The Shift Pulse feature is a direct response as the country grapples with a mental health crisis, with more people seeking out mental health services as compared to before the pandemic. By prioritising bringing in more labour to support the hospitality sector, the government will be able to lighten the load on hospitality workers, both in terms of hours worked, as well as on their mental health."
With Shift Pulse, staff can provide insightful feedback at the end of each shift so managers can address any issues and keep their teams happy and engaged. When staff clock out, they can rate how they are feeling. They also have the option to leave an anonymous comment for their manager.
Using the engagement dashboard, managers can see in real-time as shift ratings and comments flow in, and spot trends week over week.
---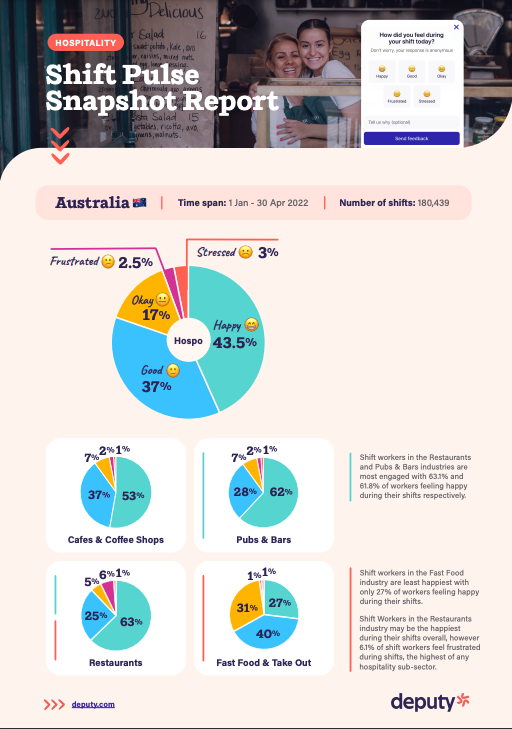 ---
About Deputy:
Deputy is on a mission to Simplify Shift Work™ for millions of workers and businesses worldwide. The company streamlines scheduling, timesheets, tasks and communication for business owners and their workers. More than 300,000 workplaces globally use Deputy to manage to schedule and effectively communicate with employees, providing millions of shift workers with more flexibility and control over their schedules. Deputy's software helps businesses navigate workforce legislation including wages, overtime, entitlements and penalties - providing businesses with tools to simplify compliance and build a thriving workplace.
Visit www.deputy.com, or find us on Twitter, Facebook, the App Store or Google Play for more information.
---
Mat Beeche Global Strategic Communications Director
Back