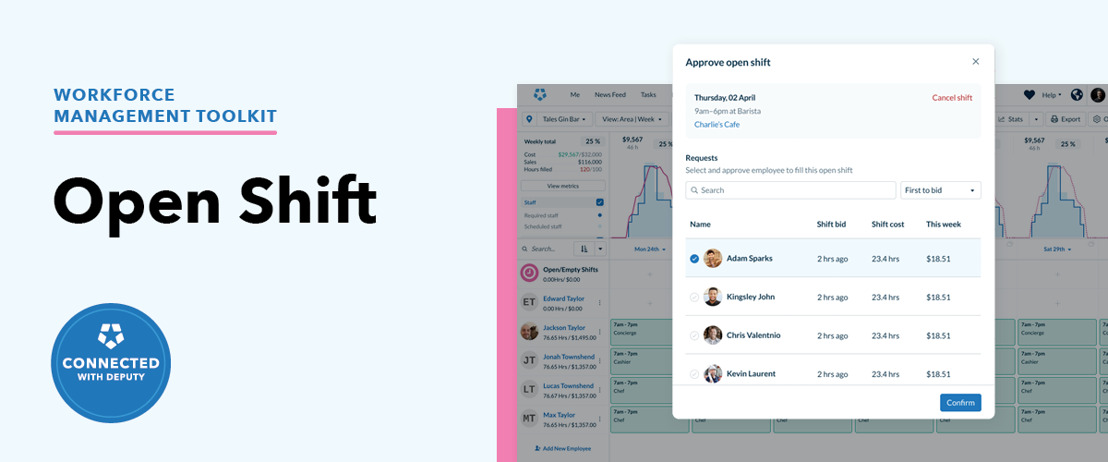 Wednesday, June 24, 2020
Deputy Introduces Open Shifts to Simplify and Streamline Shift Planning for the Return to Work
The company's latest scheduling tool provides a cost-effective solution for managers to review and select the most qualified candidate for available shifts.
SAN FRANCISCO - June 23, 2020 - For companies returning to work, or businesses currently operating under essential orders, scheduling shifts can be a daunting, time-consuming task. That is why today, leading workforce management platform, Deputy, is announcing Open Shifts, to provide business owners and managers with much-needed flexibility and efficiency when it comes to scheduling and filling open shifts.
As the nation returns to work, all 50 states have initiated re-opening procedures. For many industries that use shift work models, most notably, hospitals and healthcare, retail, dining and call center services, returning to work can significantly complicate logistics and scheduling. Staffing open shifts is not a simple matter and it can be time-consuming and costly for businesses - especially when specific certifications are needed to fill a role.
Deputy's Open Shifts solves for this by enabling managers to ensure the most suitable employees are selected for a shift - effectively matching the right skill set for the position. Furthermore, the product democratizes open shifts policies, allowing all employees to claim open shifts advertised by the manager. This helps to avoid unfair penalizations for those who were not quick of the mark to claim shifts.
"Our team has worked diligently to build Open Shifts to enable and empower both shift workers and managers," said Deepesh Banerji, Head of Product at Deputy. "We're pleased to be adding this solution to our roster of "return-to-work" tools to remove friction from the scheduling process for businesses everywhere."
Open Shifts with Approval is now available on the Deputy App. Visit the App Store or Google Play to download the app and www.deputy.com to learn more.
---
About Deputy
Founded in 2008, Deputy's mission is to make it easy for workplaces and employees to navigate the changing world of workforce management. The company simplifies scheduling, timesheets, tasks and communication for business owners and their workers. Deputy's software navigates workforce legislation calculating correct wages, entitlements and penalties - keeping your business compliant and employees protected. More than 250,000 workplaces globally are leveraging Deputy to make it easier for millions of shift workers to manage their work lives. For more information, visit www.deputy.com, or find us on Twitter, Facebook, the App Store or Google Play.
---

Back