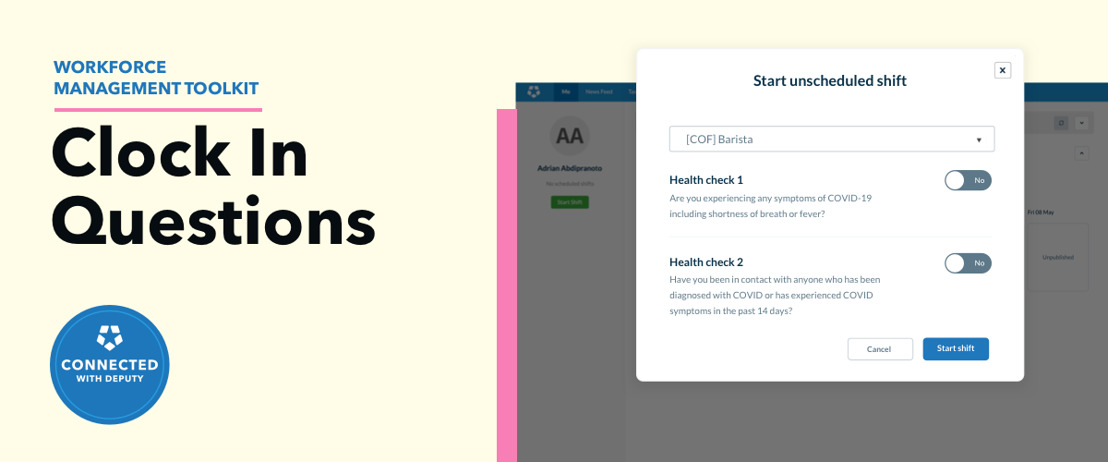 Thursday, May 28, 2020
Deputy Launches "Clock-In Questions", Arming Businesses with Safety and Hygiene-Focused Tools for the Return to Work
The company's latest COVID-19 ready solution enables businesses to ask employees a range of questions before they commence work, including pre-work health checks to help ensure those employees safely enter the workplace.
SAN FRANCISCO - May 27, 2020 - As the United States embarks on its first phase of re-opening, business owners nationwide must evaluate options for a secure and ordered return to work. To support and guide owners through this daunting process, leading workforce management platform, Deputy, is today announcing the release of it's newest product: Clock-In Questions. This new COVID-19 ready solution enables today's workers to safely and seamlessly clock into work.
The landscape for re-opening and operating workplaces in the U.S. is a complex one. While there is a definite need to kick-start the economy - with over 33 million Americans unemployed - there is also a substantial concern for safety and wellbeing that looms over the decision. This makes it more important than ever for business owners considering re-opening to facilitate a safe reintegration into the workforce and an environment that employees are comfortable operating in.
Deputy's Clock-In Questions provides a critical first step for employees returning to the workforce. Business owners can modify the product to ask employees questions confirming they are healthy and prepared to start their shift. The product has been designed to be fully customizable for business owners, enabling them to apply the latest local or state safety and hygiene regulations to the checklist. The employer-generated checklist appears as a series of questions employees are prompted to complete before and after their shifts. If an employee does not pass their health and safety check, management is notified immediately and the employee is no longer allowed to clock-in.
"Since the start of the pandemic, our team has been dedicated to tracking its impact, and anticipating potential impact, on our customers and the global business community," said Deepesh Banerji, Head of Product at Deputy. "This has enabled us to release smart, functional tools to help today's businesses get back on their feet. With Clock-In Questions, we recognized the need for not only an agile product, but one that was flexible and could be adjusted to comply with regulations worldwide. We are excited to debut this new tool and facilitate a much-needed line of communication for today's workers and managers."
Clock-In Questions is now available on the Deputy App. Visit the App Store or Google Play to download the app and www.deputy.com to learn more.
About Deputy
Founded in 2008, Deputy's mission is to make it easy for workplaces and employees to navigate the changing world of workforce management. The company simplifies scheduling, timesheets, tasks and communication for business owners and their workers. Deputy's software navigates workforce legislation calculating correct wages, entitlements and penalties - keeping your business compliant and employees protected. More than 250,000 workplaces globally are leveraging Deputy to make it easier for millions of shift workers to manage their work lives. For more information, visit www.deputy.com, or find us on Twitter, Facebook, the App Store or Google Play.

Maya Varma PR Manager, Deputy
Back