Wednesday, 13 October 2021
Deputy launches shift worker engagement feature.
Starts critical conversation for Mental Health Awareness Month.
---
London – October 13, 2021 – Deputy, the workforce management app, has launched a tool that allows managers to understand the emotional wellbeing of their team members.
The new feature, Deputy Engage is designed to provide workers with a simple, one-step way to share how they're feeling after every shift, so that managers can create a thriving workplace based on their team's needs. This comes at a time when many industries including health & social care, hospitality and transport & logistics face major staffing and retention challenges.
David Kelly, General Manager EMEA at Deputy, explains: "During World Mental Health Awareness Month, we want to provide a practical aide to help improve employees' day-to-day working lives. Retaining and motivating a positive workforce has never been more important. By supporting your team and encouraging them to grow, you can create a workplace where everyone feels recognised, welcomed and most importantly, happy."
The new Shift Engagement feature enables staff who are clocking out to rate their shift across an emotions index (Excited, Happy, Okay, Frustrated, Stressed) along with an optional comment. The rating is currently offered on mobile clock-out and is completely anonymous, with managers and supervisors accessing a dashboard to see the responses.
David Kelly explains: "We explored many variations of responses like thumbs up/down, 1-5 numerical rating, and other words but ultimately choose to lead with emotions as responses, as defined by clinical psychology research."
---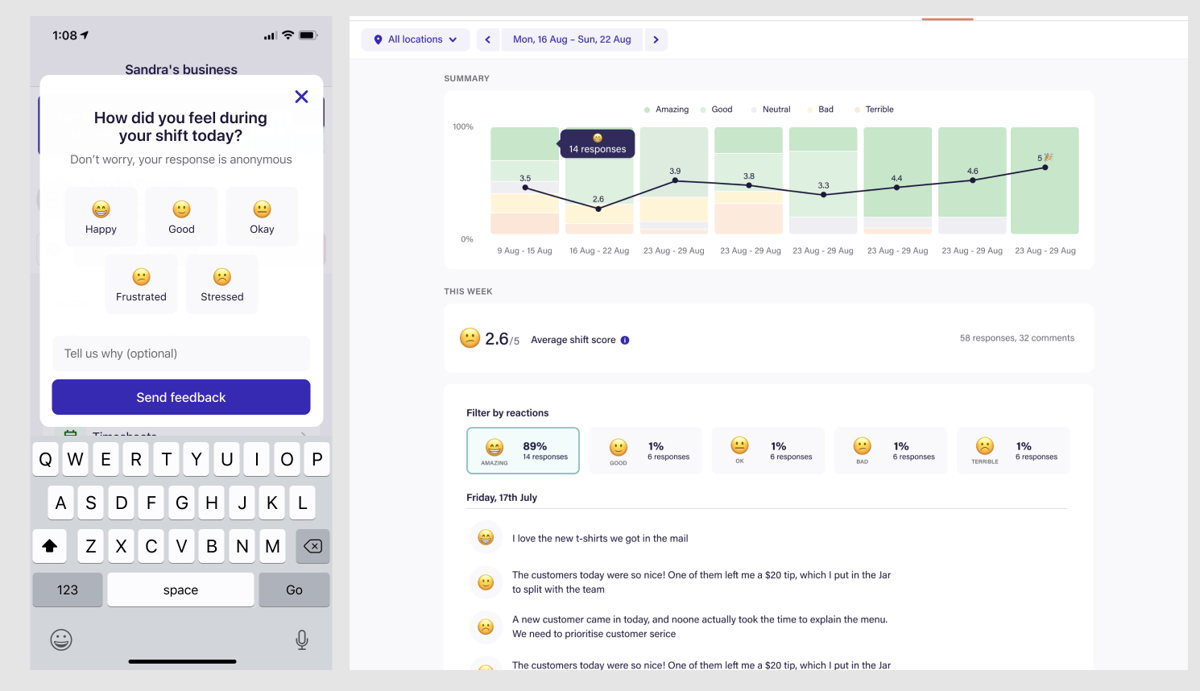 ---
The research defines emotions as "...how individuals deal with matters or situations they find personally significant," and breaks emotional experiences down into three components:
a subjective experience

a physiological response and

a behavioural or expressive response.
David Kelly continues: "By allowing staff to share an emotional expression of their shift, we give them an opportunity to share how they feel (their subjective experience) and get ahead of their expressive response – in other words, the action they will take if unhappy. Gone unnoticed and addressed, expressive responses can result in poor performance at work, tardiness or absenteeism, and even surprise voluntary resignations.
"Motivated staff can be the difference between meeting your bottom line or closing up shop. The more employers can do to boost the mental resilience and wellbeing of their team, the better."
---
About Deputy
Deputy is on a mission to Simplify Shift Work™ for millions of workers and businesses worldwide. The company streamlines scheduling, timesheets, tasks and communication for business owners and their workers.
More than 260,000 workplaces globally use Deputy to manage rotas and effectively communicate with employees in real time, providing millions of shift workers with more flexibility and control over their schedules. Deputy's software gives businesses the tools they need to create a thriving workplace.
Visit www.deputy.com, or find us on Twitter, Facebook, the App Store or Google Play for more information.
---

Anna Thomas Media Contact
Back