Thursday, October 14, 2021
Deputy launches shift worker engagement feature.
Helping managers understand how teams are feeling.
---
San Francisco – October 14, 2021 – Deputy, the workforce management app, has launched a tool that allows managers to start to understand the emotional wellbeing of their team members.
The new feature, Shift Engagement is designed to provide workers with a simple, one-step way to share how they're feeling after every shift, so that managers can create a thriving workplace based on their team's needs. This comes at a time when many industries are facing major staffing and retention challenges.
"Fostering happier, mentally healthier staff, helps businesses to reduce their turnover rate, retain great staff and run at their optimum" says Restaurateur and Mental Health Educator Bianca Welsh.
Most mental health issues begin to occur before the age of 25, while suicide is the largest cause of death in young people according to insights from the National Mental Health Institute.
"That is the largest cohort of employees in many of our frontline industries" says Bianca.
The new Shift Engagement feature enables staff who are clocking out to rate their shift across an index of emotions (Excited, Happy, Okay, Frustrated, Stressed) along with the option to add commentary. The rating is currently offered on mobile clock-out and is completely anonymous, with managers and supervisors accessing a dashboard to see the responses.
---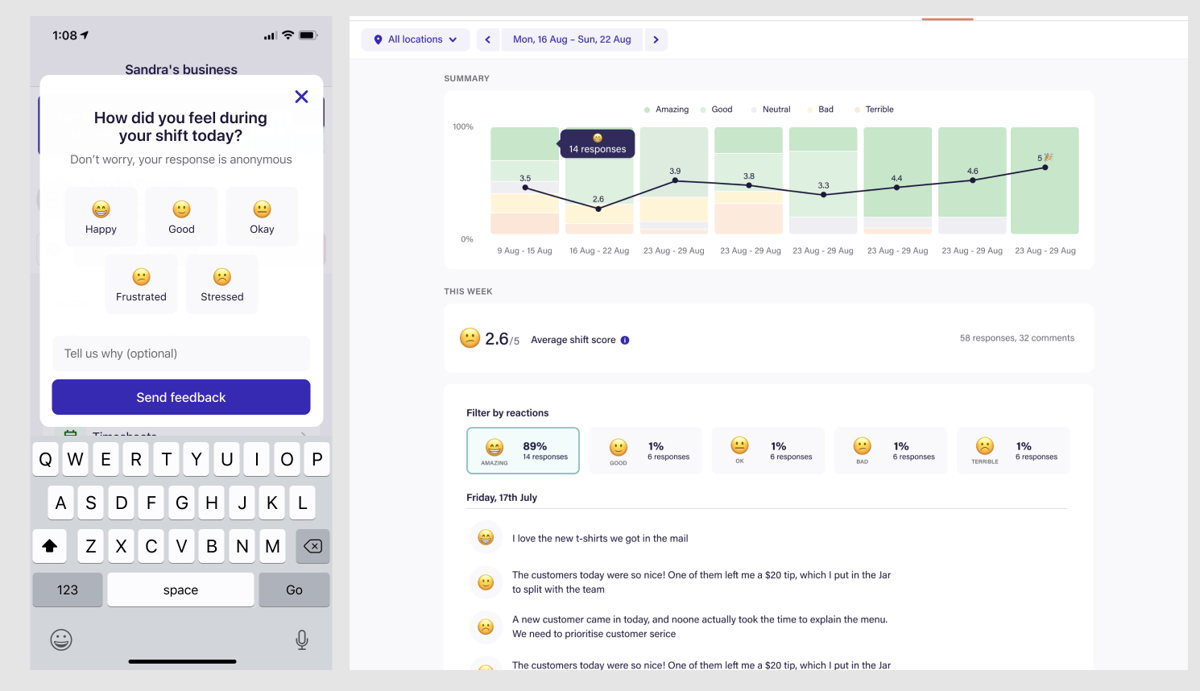 ---
By allowing staff to share an emotional expression of their shift, we give them an opportunity to share how they feel and allow managers and operators to get ahead of their expressive response – in other words, the actions they will take if they continue to feel a certain way. Gone unnoticed and addressed, expressive responses can result in poor performance at work, changes in a persons behaviour, and resignations.
"You don't need a psychology degree to start a conversation about mental health, investing in energy into having a mentally healthy workplace is not just good for your team, but good for your bottom line too. Improving productivity and reducing staff turnover is any business owner's dream " says Bianca.
Shift Engagement is available to all Deputy Premium users globally..
---
About Bianca Welsh
Bianca is a Restaurateur, Mental Health Educator and Industry Advisor to Deputy.
With three successful restaurants, her name is synonymous with entrepreneurship and excellence in Tasmania's tourism and hospitality industries. She has also created a movement to focus on mental health in the sector and sits on multiple government industry advisory groups.
---
About Deputy
Deputy is on a mission to Simplify Shift Work™ for millions of workers and businesses worldwide. The company streamlines scheduling, timesheets, tasks and communication for business owners and their workers. More than 260,000 workplaces globally use Deputy to manage to schedule and effectively communicate with employees, providing millions of shift workers with more flexibility and control over their schedules. Deputy's software helps businesses navigate workforce legislation including wages, overtime, entitlements and penalties - providing businesses with tools to simplify compliance and build a thriving workplace.
Visit www.deputy.com, or find us on Twitter, Facebook, the App Store or Google Play for more information.
---
Mat Beeche Global Strategic Communications Director
Back