Wednesday, 14 July 2021
Health and social care workers averaged 86-hour weeks through the pandemic.
New report reveals staggering number of hours worked by key workers in the health and care sector, evidencing the Health and Social Care Committee's warning of burnout.
---
London, July 2021: Leading workforce management app, Deputy, has released its 2021 Shiftwork Economy Report, revealing the reality of shift work during the pandemic.
The report, which provides an analysis of 11.5 million shifts worked by more than 350,000 UK shift workers, proves the burden placed on key workers in the health and social care sector.
Staff in the sector worked an average of 86-hours per week between January 2019 and May 2021, fuelled by overtime and dual shifts in 24-hour periods, as well as overnight stays in care home settings through lockdowns.
The data backs up the findings of last month's Health and Social Care Committee report, where MPs warned NHS and care staff in England are so burnt out that it has become an "emergency" and risks the future of the health service.
"Our data shows unhealthy work patterns placing individuals at risk of burnout, physical injury, mental and other health issues," said David Kelly, General Manager for EMEA at Deputy. "These findings prove how health and care workers have been expected to go above and beyond from the very beginning of the pandemic. The hours being worked are not only unsustainable but highlight the lack of protection in place for shift workers in the UK."
The Shiftwork Economy Report looked at 2.75 million shifts worked by more than 52,000 health and social care workers and found:
As the pandemic struck (March 2020), Baby Boomers (57-75-year-olds) working in the sector experienced a 72% increase in the hours they worked.

Workers from Generation X (41-56-year-olds) experienced a 64% increase in hours at that time.

Millennial (24-40-year-olds) and Generation Z (under 24s) health and social care workers also saw their hours increase by 28% and by 15%.

Average monthly hours worked by all of these age groups are not yet back down to pre-Covid levels.
"Deputy's data, showing hours scheduled and worked, is useful in understanding how sectors with a significant shift worker employee base have been performing and are likely to perform in the future. The UK government is failing to address the needs of critical sectors and their shift workers. We urge policy-makers and employers to use the truth of this data to their advantage, to secure a sustainable key workforce going forward" David Kelly concluded.
---
Download a copy of the report: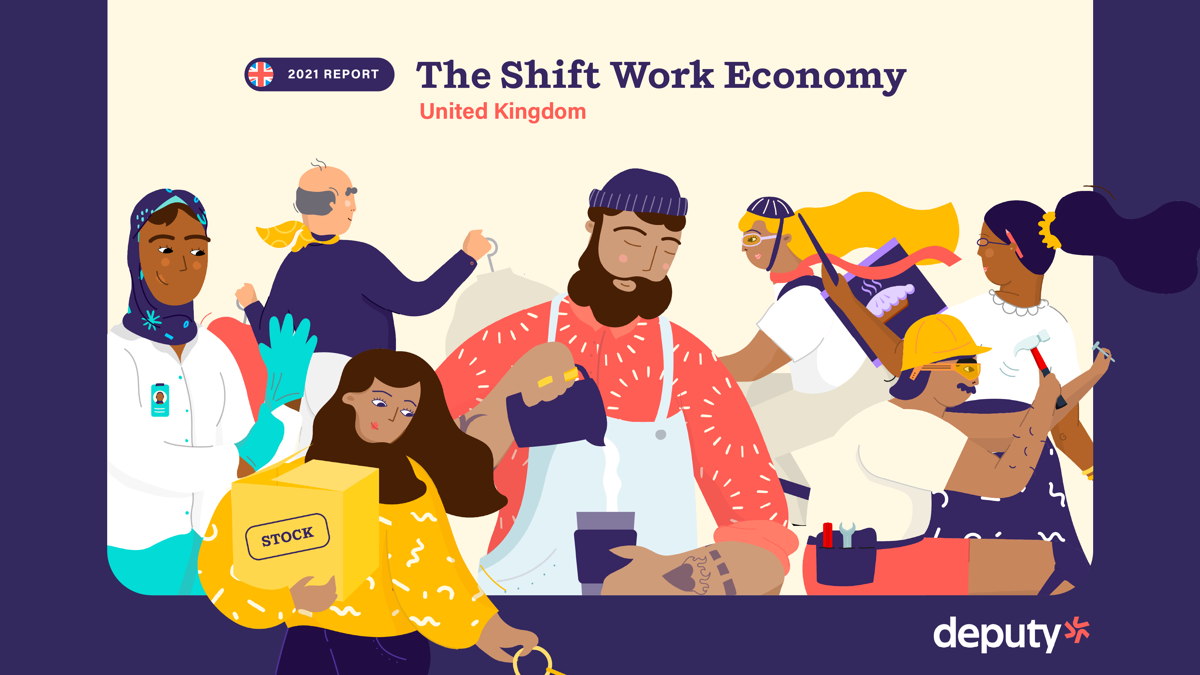 ---
The methodology behind Deputy's Shiftwork Economy Report
The Shiftwork Economy Report 2021 was produced by the leading scheduling software platform, Deputy, utilising Deputy customer data. The report features an industry-focused data analysis of UK shift workers across the hospitality, healthcare, retail, and services industries. Data was collected over a January 2019 - May 2021 timeline. 356,847 UK-based shift workers were analysed by Deputy, as well as 12,474,594 scheduled shifts and 11,499,257 worked shifts.
Industry Sample Set:
Hospitality – 58,101 shift workers, 2,570,948 scheduled shifts and 2,439,190 worked shifts.
Healthcare – 52,224 shift workers, 2,982,061 scheduled shifts and 2,745,029 worked shifts.
Retail – 34,140 shift workers, 1,621,968 scheduled shifts and 1,428,461 worked shifts.
Services – 67,915 shift workers, 1,826,437 scheduled shifts and 1,520,108 worked shifts.
The data has been normalised to account for seasonality and demand of workforce fluctuations throughout the week (e.g. weekday versus weekends).
---

Anna Thomas Media Contact
---
About Deputy
Founded in 2008, Deputy's mission is to make it easy for workplaces and employees to navigate the changing world of workforce management. The company simplifies scheduling, timesheets, tasks, and communication for business owners and their workers. Deputy's software navigates workforce legislation calculating correct wages, entitlements, and penalties - keeping your business compliant and employees protected. More than 250,000 workplaces globally are leveraging Deputy to make it easier for millions of shift workers to manage their work lives.
For more information, visit www.deputy.com, or find us on Twitter, Facebook, the App Store or Google Play.
Back