Wednesday, March 31, 2021
COVID-19 Healthcare Urgency Report
March 2021
COVID-19 has completely overwhelmed the American healthcare system.
New hot spots spike across the US on what feels like a weekly basis, and the nation has seen a never-ending stream of new infections that has continued to fluctuate since last March.
It's been well-documented that hospitals are struggling to keep up with COVID and non-COVID patient loads. Now, as several vaccines are rolled out across the country, albeit in disorganized chaos, Americans are rethinking how to approach their own healthcare, most notably debating whether or not to receive a vaccine.
Deputy, the shift work management platform supporting clinics and healthcare shift workers during the pandemic, set out to find out how those on the frontlines are handling the vaccination phase of the pandemic and how Americans feel about getting vaccinated. Most notably, this study discovered many patients are turning to urgent care facilities and healthcare clinics as an alternative to hospital visits for health concerns.
Deputy surveyed 2,000 Americans via OnePoll from January 25, 2021 - February 1, 2021 who have been to a healthcare facility within the past twelve months. The following results illustrate Americans' perception of COVID-19 vaccination and use cases for a variety of healthcare facilities.
---
WHY URGENT CARE?
The first urgent care clinics opened in the United States during the 1970s to meet the need for walk-in medical services. Founded by emergency medical practitioners, clinics initially only provided basic care for colds, flus, and aches and pains. Now they've evolved to treat more serious conditions, including bone fractures, sprains, and wounds, with some even providing lab testing, stitching, and imaging.
Clinics are staffed with at least one physician or specialist, a physician assistant, several nurses, and a radiologist.
The urgent clinic model is paying off in big ways. About 89 million patients visit urgent care clinics each year. The urgent care industry saw an increase of three percent from 2020 and is worth an estimated $29.2B in 2021. This means the American public views urgent care clinics as a credible site for many basic healthcare needs.
"In light of capacity constraints and increases in patient demand during the pandemic, clinics can offer shift workers more stability and control over work than other environments," said Dave Zinman, Global President at Deputy. "Right now, countless healthcare workers are on the frontline balancing everything from patient care to insurance issues – a workload that requires a combination of technical skills and empathy. This is a heavy lift for workers to take on, and in some cases, can lead to employee burnout. That's why it's so important that practice managers have tools to facilitate communications with staff, manage and simplify scheduling, and create a healthy work environment for staff."
---
EARNING PATIENT LOYALTY
Earning and keeping patient loyalty might seem more difficult in the midst of changing requirements for clinicians providing in-person-care. However, in the wake of a global pandemic, many Americans are seeking security and safety from those whom they interact with outside of their household per social distancing and socialization guidelines from the CDC.
As previous research details, higher patient satisfaction is associated with greater inpatient use. While positive bedside manner and patient relationships is considered an important factor in hospitals and private practices, patients are now experiencing the same personal treatment in clinics and thus confidently shifting their healthcare needs away from traditional providers.
"Due to coding requirements and 15-minute appointments, patients are being treated almost like a commodity, even though the nature of this work is personal and requires time together," said Tom Vogel, Business Lead, Clinics at Deputy.
"Covid has drastically sped up changes in American healthcare consumption leading to greater accessibility through telehealth, which many clinics implemented during the pandemic to continue seeing patients at a distance. This particularly helps support the provider-patient relationship in an on-demand culture where Americans can wait weeks for an appointment with their general practitioner at a hospital."
In fact, 16 percent of survey respondents say preference for a specific practitioner at an urgent care facility is an influential factor in their decision to avoid hospitals – a testament to the valuable patient-practitioner relationships that can be formed in these settings.
---
HOSPITAL AVOIDANCE
Healthcare consumers are increasingly trusting urgent care facilities over hospitals. As the pandemic raged on, messages from government officials urged Americans to avoid hospitals unless absolutely necessary. This communication, paired with the public's rising anxiety of being exposed to COVID-19, has resulted in a continued belief that hospitals and doctor's offices are deemed risky places to visit.
The survey also probed respondents' reasons for avoiding hospitals more generally. Fear of contracting COVID-19 was a factor for 35 percent of respondents, and 44 percent cited they did not want to clog the hospital's patient load.
In fact, 66 percent of respondents say they will be more likely to seek healthcare from an urgent care facility than from a hospital for the next six months and 60 percent said the same about the next year. Finally, 63 percent of respondents have already sought care from a clinic over an emergency room due to fear of contracting COVID-19.
This means roughly two-thirds of Americans surveyed will avoid overcrowded and understaffed hospitals in the near future.
"Clinics have seen a rise in popularity consistently over the years, and have really taken off during the pandemic as many Americans feel less exposed going to a smaller clinic over a hospital," said Dave Zinman, Global President, Deputy. "Deputy has seen a rise in clinician accounts activated, driven not only by consumer demand, but the need for practice owners to streamline operations and create thriving workplaces.
"Although it's widely understood that administrative tasks are the norm when you own or run a practice, your doctor, vet, or dentist didn't go to medical school because they were passionate about operating a business. Instead, they are passionate about providing medical care in their community. Our scheduling software is perfectly positioned to help reduce administrative burden, providing medical teams with much-needed flexibility and functionality, so they can provide better patient care."
The survey also revealed that 42 percent of respondents incorrectly believed only hospitals can administer the COVID-19 vaccine. This indicates a significant knowledge gap among Americans and may cause many to hesitate getting vaccinated if they are unaware of other options beyond hospitals.
---
VACCINATION HESITATION
Still, 66 percent of respondents plan to get vaccinated once they're eligible, while 12 percent are unsure.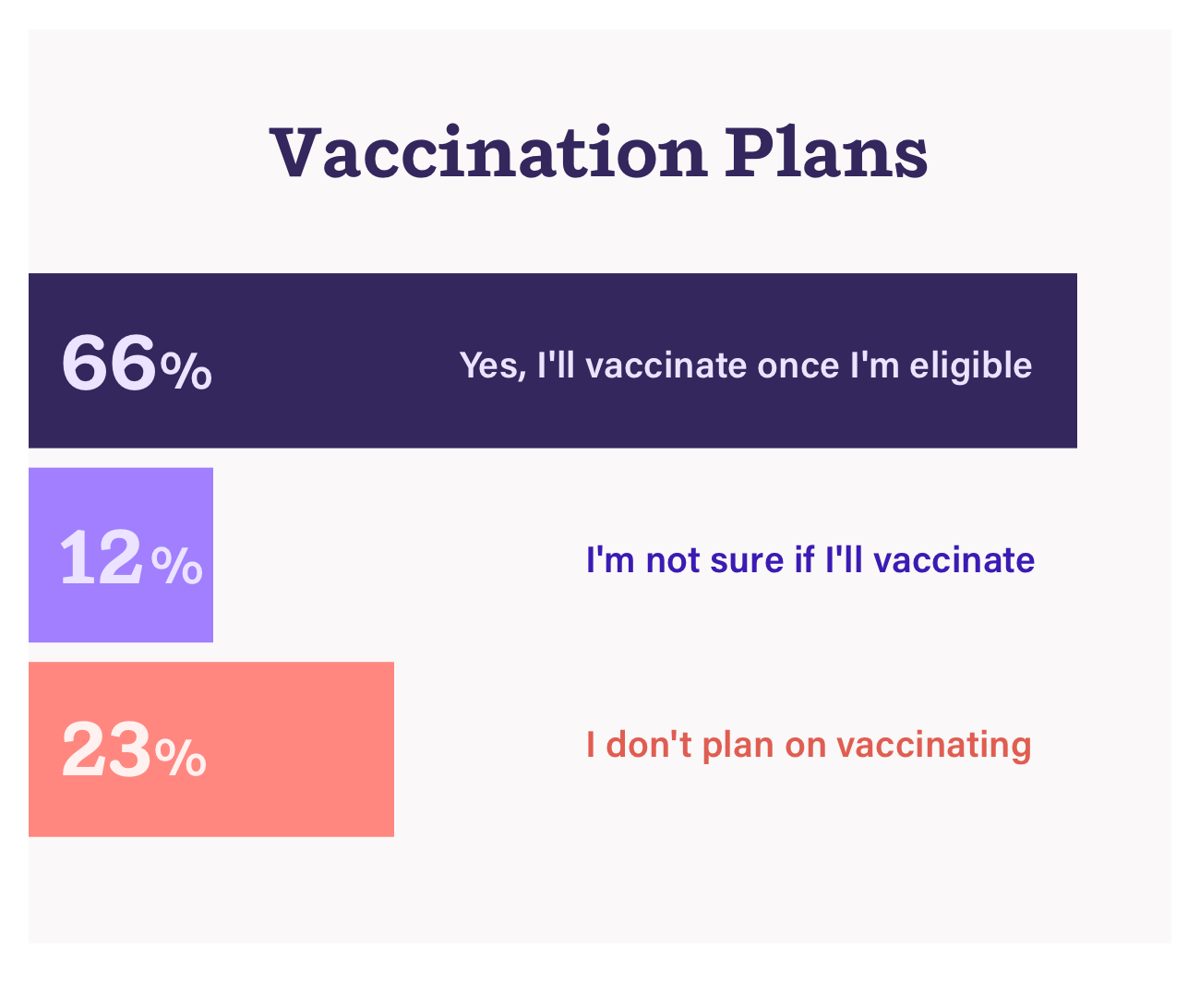 With emergency use authorization from the FDA for vaccines that would otherwise take years to become approved, 43 percent of respondents expressed concerns surrounding safety, and 38 percent mentioned the effectiveness of the Moderna, Johnson & Johnson, and Pfizer vaccines.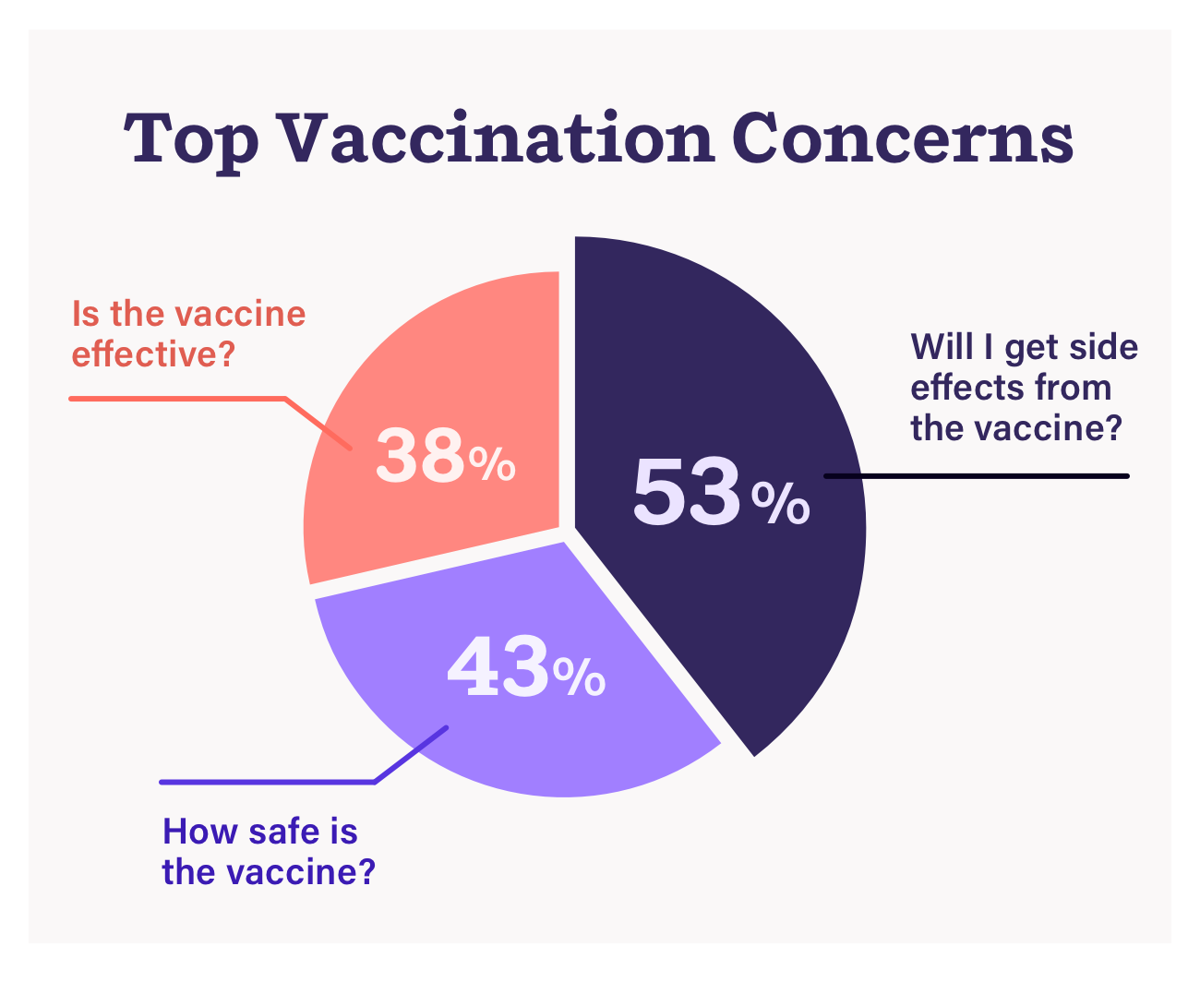 Though many individuals have reported only mild side effects after the COVID-19 vaccination, according to the CDC, Americans are weary to get their one-two shots. About half of those surveyed cited concerns about vaccine side effects as a source of hesitation and nearly one-quarter of American healthcare consumers don't plan on vaccinating at all.
For vaccination information, questions, plans, and more, please visit the CDC official website: https://www.cdc.gov/
Back