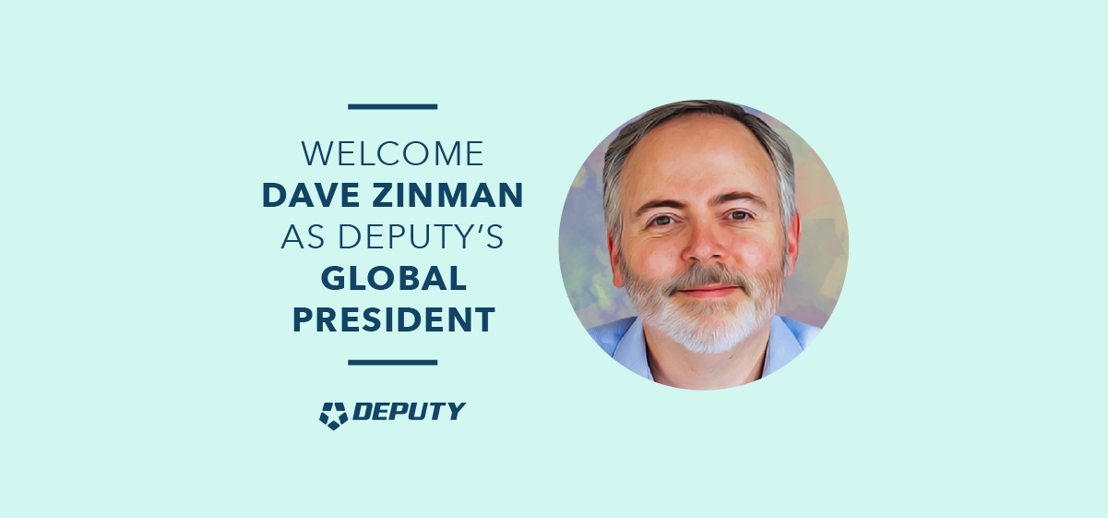 Friday, March 20, 2020
Deputy Names Tech Trailblazer Dave Zinman, as Global President
Zinman joins the high-growth startup as the company hits a milestone of over 300,000 workplaces managing their workforce with Deputy
SAN FRANCISCO - March 19, 2020 - Leading workforce management software company, Deputy, today announces the addition of emerging technology luminary, Dave Zinman, as the company's new Global President. Zinman joins Deputy as the company reports over 200 million shifts have been scheduled globally utilizing Deputy's software.
Previously, Zinman served as Chief Operating Officer at Drawbridge Inc., where he was responsible for the company's global go-to-market strategy and execution. Under his leadership, Drawbridge tripled its business in a year ultimately culminating in the company's acquisition by LinkedIn in June 2019.
Dave has held senior leadership roles at several high-growth companies, including BlueLithium, Infolinks and Yahoo! He was also co-founder of FocaLink Media Services, later called AdKnowledge, which developed the world's first ad server that laid the foundation for digital advertising today and was later acquired by Engage.
"We are elated to welcome Dave to Deputy - his comprehensive background working with emerging technology and breadth of experience in scaling businesses internationally aligns with our company's plan to continue strong global growth in 2020 and beyond," said Ashik Ahmed, Co-founder and CEO of Deputy. "Dave joins the team at a critical time as the company zeros in on building out leadership positions in the hospitality and retail sectors. We're grateful to have Dave at the helm spearheading the global-go-to-market organizations with our sales, customer success and marketing teams."
"Throughout my career, I've been attracted to companies that offer concrete, data-driven solutions to business problems. Deputy makes work life easier, simplifies team communication and empowers people to work the way they want. Perhaps most importantly, the product establishes a feeling of trust between business owners and employees," said Dave Zinman, Global President of Deputy. "I look forward to bringing my passion and experience in business building to Deputy and am enthusiastic about the journey ahead."
Globally, Deputy now has over 300,000 workplaces managing their workforce with the company's software. In the U.S. alone, 115,000 companies utilize Deputy to effectively schedule and manage their workforce. This trajectory of rapid growth is set to continue as American business owners lean on workforce management providers to automate the calculation of staff wages in order to ensure they are compliant with relevant legislation, like Fair Workweek laws, and optimize their labor costs.
For more information on Deputy, visit www.deputy.com. To download the Deputy app, visit the App Store or Google Play.
About Deputy
Founded in 2008, Deputy's mission is to make it easy for workplaces and employees to navigate the changing world of workforce management. The company simplifies scheduling, timesheets, tasks and communication for business owners and their workers. Deputy's software navigates workforce legislation calculating correct wages, entitlements and penalties - keeping your business compliant and employees protected. More than 300,000 workplaces globally are leveraging Deputy to make it easier for millions of shift workers to manage their work lives. For more information, visit www.deputy.com, or find us on Twitter, Facebook, the App Store or Google Play.
Back